On this page, we always keep you up to date. Here you can find our new releases and featured products. Besides the most important information, you have the possibility to watch our product videos on YouTube. If you are interested in a product, you can view it directly in the store.
PET Ceiling Absorber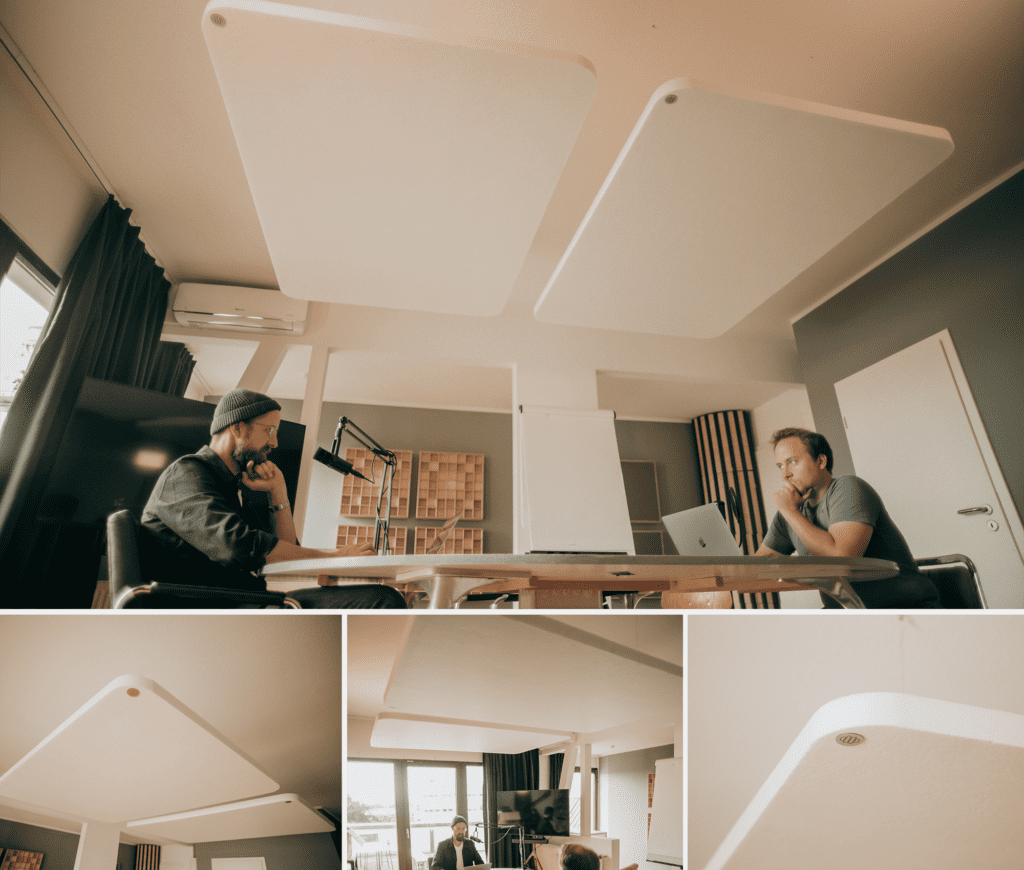 Our new PET Ceiling Absorber is especially suitable for acoustic optimization of offices and call centers, recording studios, home studios, podcast and streaming rooms, rehearsal rooms as well as for hi-fi and home theater applications.
The ceiling absorber is available in black, gray, and white. The steel cable from which the absorber is suspended is variably adjustable in height.
Specifications
• Effective range: from 315 Hz
• Material: PET fleece, 50 mm thick (tolerance of +/- 10%)
• Flame retardant according to standard ASTM E84 – Class 1
• Suspension system: Four adjustable stainless-steel cables
• Dimensions: 1800 x 1200 x 50 mm (HxWxD)
• Color: black, white, and gray
Tube Traps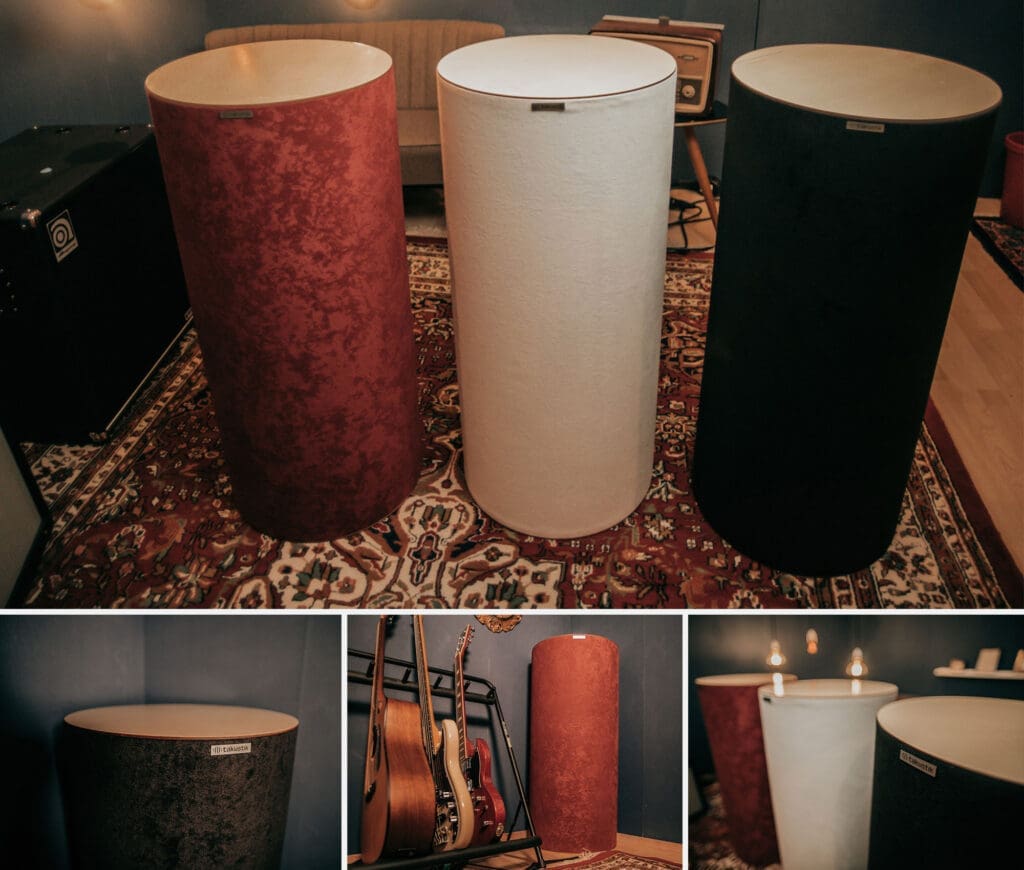 Our new t.akustik Tube Traps absorb especially low frequencies in the bass range and can be used in a variety of ways. The Tube Traps are available in five different colors: black, white, grey, bordeaux, and cream.
They are particularly well suited for use in recording studios, home and project studios, rehearsal rooms, home theaters, and for hi-fi applications.
Specifications
• Absorber for low frequencies to optimize room acoustics
• Material: High-quality polyester acoustic foam with high density (45kg/m3) and dense structure for absorbing low frequencies with fabric covering
• Flame retardant according to FMVSS 302 burn rate <100 mm/min
• Dimensions: 100 cm x 45 cm (height x diameter)
• Color: Black, White, Grey, Bordeaux, Cream
Vocal Head Booth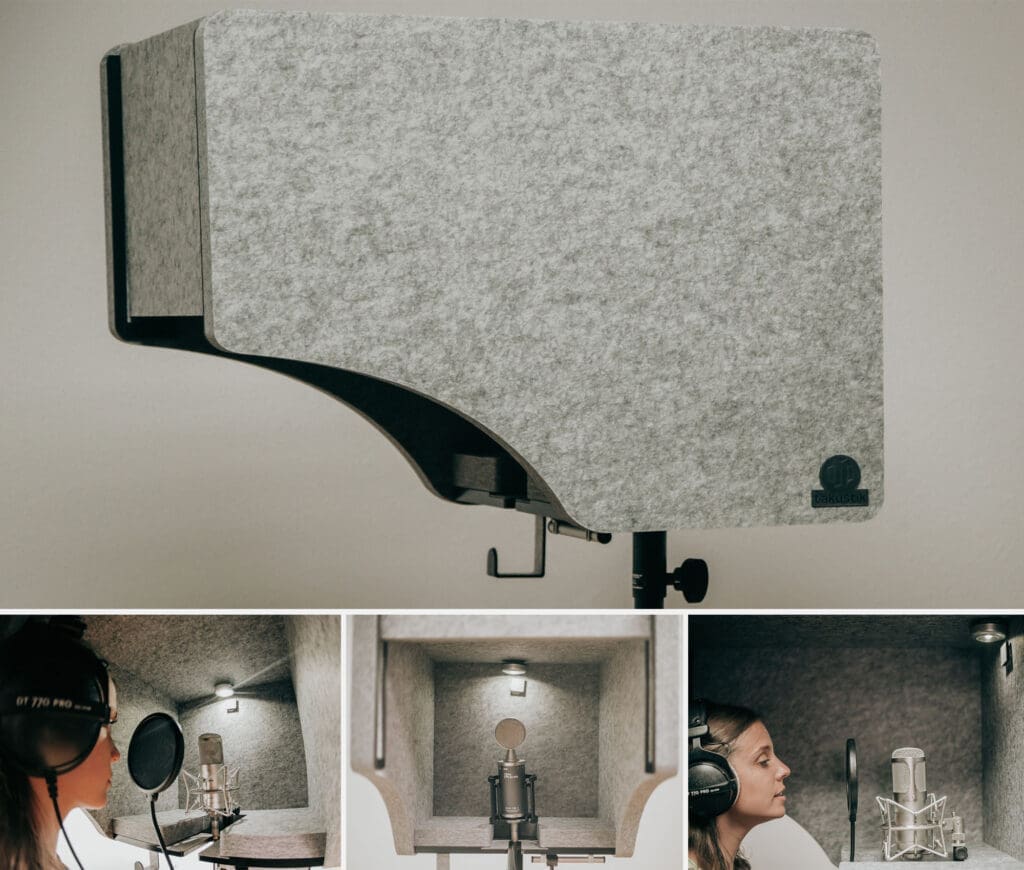 Our Vocal Head Booth is the perfect companion for musicians, podcasters, and anyone who wants to record speech in acoustically suboptimal environments.
Voice overdubs, song demos, and meetings can be perfectly realized with the Vocal Head Booth.
The back panel slides upwards. The adjustable mount for a microphone cradle allows the use of any microphone model.
Holding rails are attached to the underside of the Booth to mount a pop shield and hang headphones. Texts can be attached to the front wall with the help of a magnet.
A magnetic LED light provides perfect illumination.
Material: 40 mm PET polyester on black lacquered MDF board; integrated adapter for mounting on a tripod with tube Ø 35 mm.
AP180-2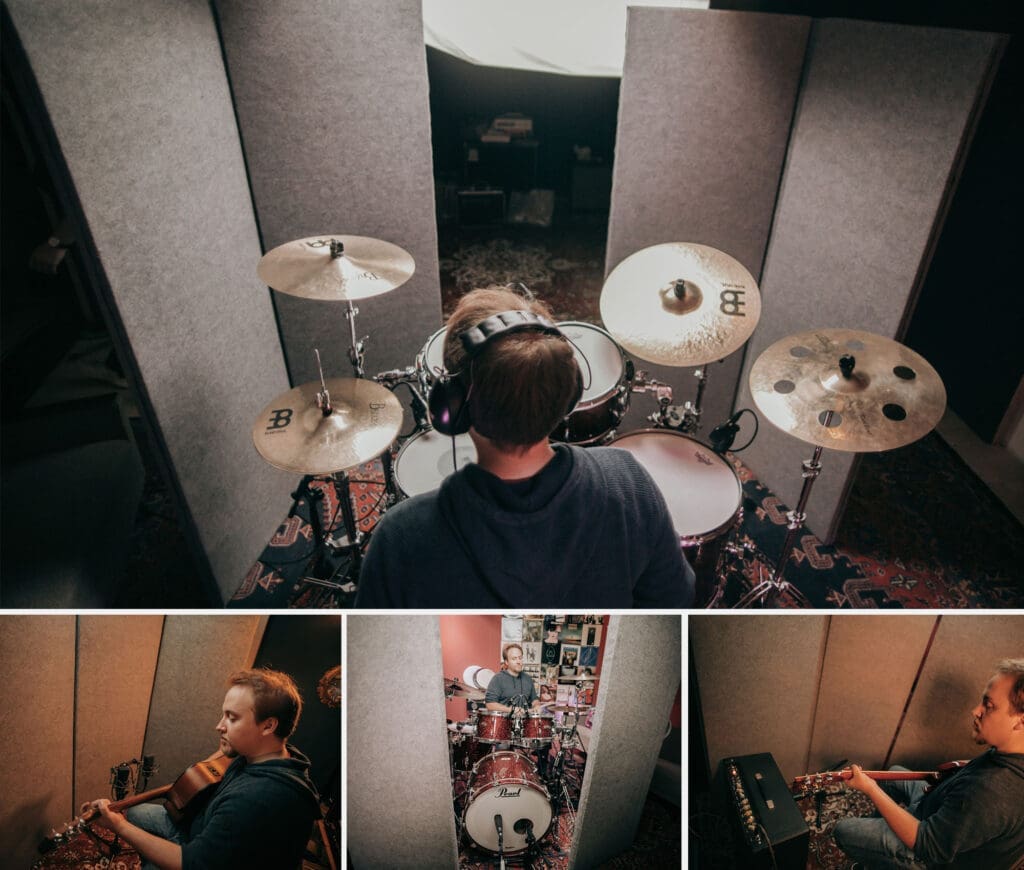 The AP180-2 mobile absorber screen reduces room sound during recordings. Perfect for use in drum, guitar, and vocal recordings. Can be used as a partition between several musicians, e.g. for string or choir recordings.
Made of PET (surface-hardened on both sides) with washable felt fabric cover; with Velcro fastener and Velcro fixings for row combination; MDF bracing for stabilization in the folding area; for free-standing positioning.
Dimensions per wing (H x W x D): approx. 1800 x 600 x 50mm
Colour: grey
Desktop Absorber 120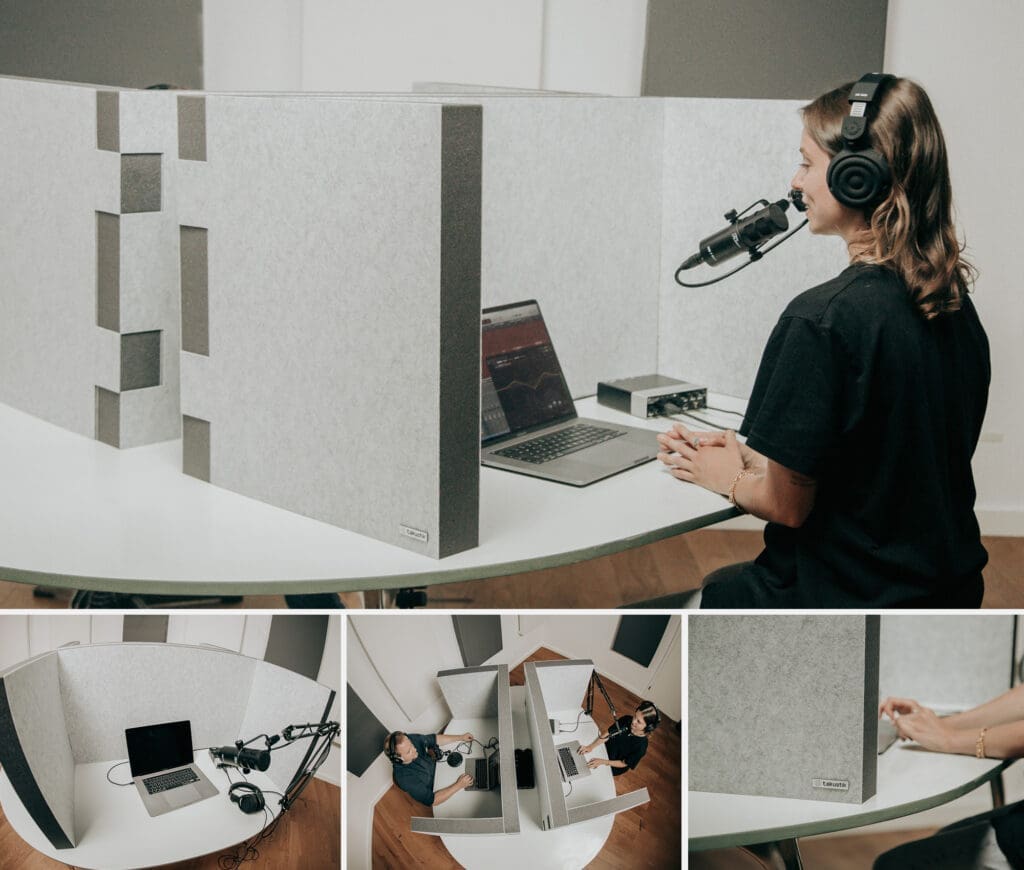 Our desktop absorber reduces room sound at the workplace. Especially for podcasters, singers and songwriters, content streamers, home producers, and anyone who wants to achieve better sound at their workplace.
Because it's designed specifically for desktops, our new absorber is brilliantly suited to offices or call centers.
The Desktop Absorber is made from flame-retardant polyurethane foam with a thickness of 80 mm, offering highly effective sound attenuation.